The reel deal
Hertfordshire has been a national centre for films and film-making for a century. It hosts some of the biggest and best names in Hollywood, including Elstree Studios, Warner Bros. Studios Leavesden and the BBC.

Some of the world's best-known films, including all Star Wars and Indiana Jones films, and all eight Harry Potter films, were made here. Hertfordshire-based firms' specialist and technical experts have been recognised for their contributions to Oscar-nominated and winning films.
Hertfordshire is a major contributor to a global success story, as the UK has one of the world's most successful and dynamic creative sectors. This provides major investment opportunities and stimulates significant supply chain activities.
View our Elstree Studios project
A growing talent base  
There were 4,550 firms in Hertfordshire's creative industries in 2016, involved in activities from film-making to digital content production. The number of enterprises has grown by 6.5% per year since 2010. Creative industries employed 17,600 people in 2015. Employment has grown by 10.6% annually since 2010, far exceeding the national growth rate of 4.5%.
The University of Hertfordshire is a key contributor to this creative ecosystem, with specialisms in animation, animatronics and digital media. Its animation school, UH Animation, is among the top four in the world. Alumni from the university are actively involved in world-leading games and animation companies, and have worked on blockbuster productions such as Harry Potter, Avatar, Prometheus and the GTA series.


Twin Peaks
Hertfordshire is home to both Elstree Studios and Warner Bros. Studios Leavesden. Elstree has made three of the top shows on British television: Dancing on Ice and Who Wants to be a Millionaire? for ITV, and Big Brother for Channel 5. Some of the most famous films in the world have been made at Elstree, including Star Wars, Indiana Jones, The Shining, Superman, and Labyrinth. More recently, Elstree has been home to Kick Ass, The King's Speech and Sherlock Holmes: A Game of Shadows. Thanks to a £1m Growing Places Fund loan from the LEP Elstree Studios was able to expand its studio space, resulting in it securing the £100m Netflix contract for The Crown.  
BBC Elstree Studios has been home to some of the broadcaster's most popular shows, including Grange Hill, Top of The Pops and Kilroy. BBC Elstree is best known for popular drama programmes such as EastEnders and Holby City.
The £100m Warner Bros. Studios Leavesden, owned by Warner Bros. Studios and opened in June 2012, is the largest studio space in the UK and is known worldwide as the home of the Harry Potter films. Other notable films include Edge of Tomorrow, Jupiter Ascending, In the Heart of the Sea and Man from U.N.C.L.E., as well as numerous TV productions and advertisements.

Its secure, 200-acre site is the only facility in Europe owned by a Hollywood studio. It has more than 250,000 square feet of studio space and hosts some of the largest sound stages in the UK, as well as one of the biggest heated underwater filming tanks in Europe. Its 100 acre back-lot is among the most extensive in Europe, and can be adapted for multiple production needs. 
Thriving digital media
A growing number of digital content, gaming, software and visual effects (VFX) companies have started in Hertfordshire or chosen to locate here. Hertfordshire's digital companies produce content for feature films, television, games, commercials, websites and mobile phones.
Games production and distribution companies such as Aspyr Media Europe Ltd, Rising Star Games Ltd, and KOEI TECMO Europe Ltd operate successfully from the county, taking advantage of Hertfordshire's communications links with London and connectivity to key international markets.
For the last ten years, UH Animation's annual exposé has been a primary recruitment forum for high profile companies seeking out new and exciting 2D, 3D, animation and VFX talent. Companies such as Disney Animation, The Mill, Tandem, Double Negative and Framestore are regular participants.
The University of Hertfordshire is also home to G+VERL (Games & Visual Effects Research Lab), a ground-breaking project linking scientists, artists, clinicians and filmmakers. It brings together the worlds of film, art, technology and computer science to undertake research into digital image making and high-resolution image technologies. Sharing methods and promoting interdisciplinary understanding, the project brings together world-class research in a wide range of areas, including video art, digital film, visual effects and medical visualisation.
Hertfordshire is strong on promotion too, with corporate and events management companies such as SMYLE helping global brands launch new products or celebrate successes.
The future of Hertfordshire's Creative Industries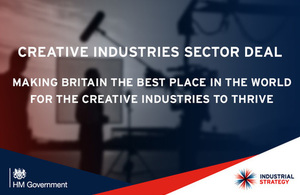 In 2018, a £150m Creative Industries Sector Deal was agreed between Government and the Creative Industries Council to help strengthen the UK's advantage as a creative nation by increasing the number of jobs and opportunities across the industry, improving productivity, and significantly expanding overseas trade. 
Over the last five years, inward investment in film has grown by 92% and in high-end TV by 162% and it is predicted that with the right conditions, revenue generated by the sector could double to approximately £4bn a year by 2025. Nationwide, this has triggered significant commercial investment to increase production capacity, including planned expansions at both Warner Bros. Studios Leavesden and Elstree Studios.
At Warner Bros. Studios Leavesden, construction will start in summer 2018 on two new sound stages and supporting offices, as part of the studio's long-term masterplan. This latest wave of investment in the state-of-the-art facility will take the total spend on the acquisition and redevelopment of the site to £240m. Construction is also underway for the expansion of the Warner Bros. Studio Tour London – The Making of Harry Potter, due to open in summer 2019.